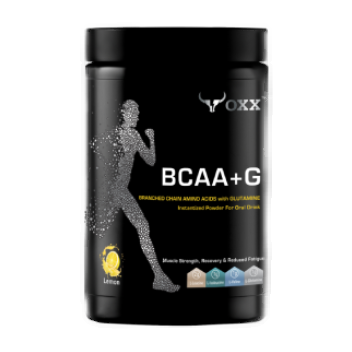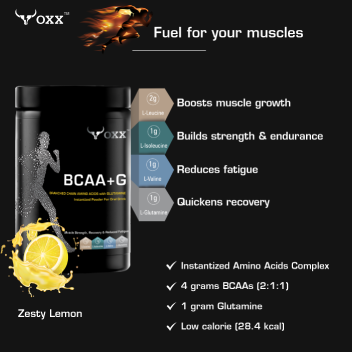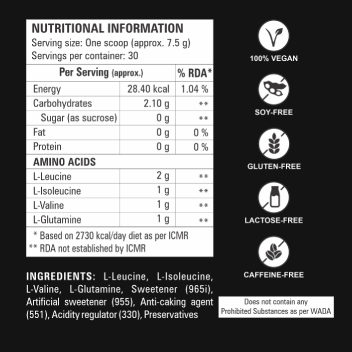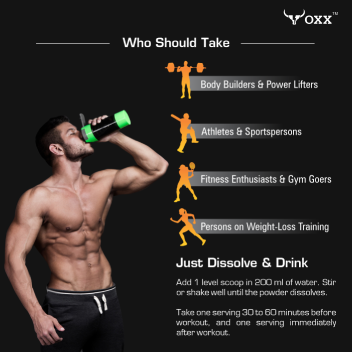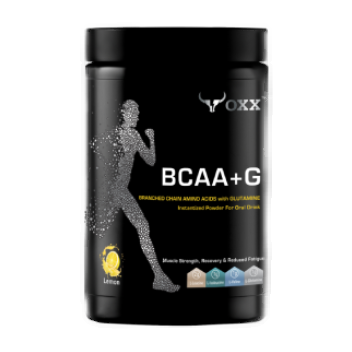 OXX BCAA+G
The Ultimate Sports Supplement for Muscle Strength,
Endurance and Recovery
Pack Size :
225 grams (30 servings)
Flavours :
Lemon,
Orange,
Blueberry Mohito
OXX BCAA+G provides essential amino acids L-Leucine, L-Isoleucine and L-Valine (collectively known as BCAA) in the ideal ratio of 2:1:1, along with L-Glutamine. OXX BCAA+G is specially designed to make you get the best out of your workouts.
OXX BCAA+G contains 5 grams of amino acids: 4 grams BCAA (2:1:1) with 1 gram Glutamine. Regular intake of OXX BCAA+G improves muscle strength and endurance, helps prolong training sessions by reducing fatigue, and quickens muscle recovery after workout.
OXX BCAA+G with instantized amino acid blend in a unique granular formula ensures rapid absorption offering anabolic muscle support on both training and rest days.
OXX BCAA+G has no added sugar and is low in calories making it ideal for body builders, athletes, sportspersons, fitness enthusiasts as well as those on weight-loss training programs.
OXX BCAA+G is 100% Vegan, Gluten-free, Lactose-free, Soy-free and Caffeine-free; and does not contain any prohibited substance as per WADA (world anti-doping agency).